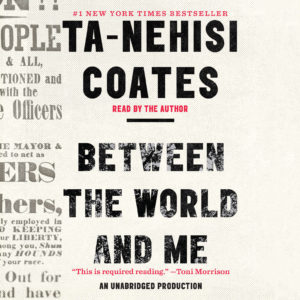 Between the World and Me by Ta-Nehisi Coates
This is a brief response to Between the World and Me by Ta-Nehisi Coates. It is not an exhaustive review. If you are searching for deep thematic analysis of the text, seek that information elsewhere and refer to the library of interviews with Ta-Nehisi available online. What I'm providing here are opinions for the friend who let me read his copy that I believe will also service our greater culture in the long run.
Between the World and Me is a letter from Ta-Nehisi to his son, Samori. It provides some emotional insight into the author's upbringing in West Baltimore, paints a colorfully detailed picture of his time at Howard University, a.k.a. The Mecca, recalls some events in Samori's childhood that Samori may not remember himself, carries us along a telling of the death of Prince Carmen Jones at the hands of local police officers and finishes with an interview with Prince's mother, Dr. Mable Jones. The format of this article is a series of responses to quotes. Again, this is not exhaustive. Thanks for reading.
"To be black in the Baltimore of my youth was to be naked before the world, before all the guns, fists, knives, crack, rape, and disease. The nakedness is not an error, nor pathology. The nakedness is the correct and intended result of policy, the predictable upshot of people forced for centuries to live under fear." pg. 17
Let us first proclaim with clarity that not all black people grow up in these conditions. When you look out at American demographics, you will find black people in almost all imaginable situations, rich, poor, educated, suburban, gentry, and rural. It is unfortunately true that blacks live in dangerous neighborhoods at an elevated level compared to other race groups. I was raised in a not too dissimilar area than Ta-Nehisi and am completely empathetic with his struggle.
When he calls the unbalanced proportion of blacks living in dangerous poverty an intended result of policy, he is referring to the Jim Crow segregation laws that sequestered black lives into relatively poor neighborhoods from the election of Rutheford Hayes to the assassination of Dr. Martin Luther King Jr., the effective sanctioning of extrajudicial lynchings that occurred over that period, widespread separate and unequal segregation laws, a decimating war on drugs championed by the Nixon administration, objectively racist federal home loan distributions, and a private prison system that openly exploits inmates for profit and labor, stripping them of much opportunity for reformation and improvement. He's saying here that the black American has yet to be the author of its own destiny and I'm inclined to agree with him.
"The point of this language of 'intention' and 'personal responsibility' is broad exoneration. Mistakes were made. Bodies were broken. People were enslaved. We meant well. We tried our best. 'Good intention' is a hall pass through history, a sleeping pill that ensures the Dream." pg. 33
This point resonated with me because I've encountered it very often. The black American has been hurt by the white American, historically. We've been set back and made afraid. Now, we have the task of healing the suffocated culture that's been forced upon us. It's a hurtful sequence of events and Ta-Nehisi articulates it well. White Americans will not, as a unit, make reparations for slavery and Jim Crow. The bulk of the responsibility of improving black America rests squarely on the shoulders of black Americans. This fact is painful and true.
"The nigger, the fag, the bitch illuminate the border, illuminate what we ostensibly are not, illuminate the Dream of being white, of being a Man. We name the hated strangers and are thus confirmed in the tribe." pg. 60.
Ta-Nehisi refers often to the Dream and Dreamers. It seems that he uses this terminology to describe the white American broadly. Readers can easily discern the negative connotation with which the term is evoked. To understand it, one can imagine dreamers being every white American who spat and cursed on black people as they walked into segregated parts of town. These were usually kind, intelligent, and thoughtful people until a black person was involved. Then, callous vitriol replaced measured words and, in mob form, this transformation could quickly cost some black person their life. The children and grandchildren of these outwardly racist white Americans are usually extremely quiet about grandma and grandpa's bad attitudes. Fortunately, millions of white Americans are waking up to the misdeeds of their parents and grandparents, however subtle. Among this group you will find many white people who understand what Ta-Nehisi means by dreamers and they are not offended by its use because they are not part of that group and they are well aware that such people exist. The conceptual mechanism by which some white people can rightly be referred to as "waking up" to the disastrously bad behavior of their recent ancestors is the same mechanism by which Ta-Nehisi calls other members of that tribe "dreamers".
"But looking out upon the ruins of America, my heart was cold…I could see no difference between the officer who killed Prince Jones and the police who died, or the firefighters who died. They were not human to me. Black, white, or whatever, they were the menaces of nature; they were the fire, the comet, the storm, which could – with no justification – shatter my body." Pg. 86-87
This passage is referring the 9/11 attacks. Flatly, it's far too cold to be acceptable. It is the most heartless passage in the book but one would be throwing the baby out with the bathwater if one was to dismiss the entirety of the text based on these paragraphs. Still, it's a step too far to refer to the public servicemen and servicewomen that risked and sometimes gave their lives so others could survive the darkest day in recent American history as inhuman. Of course, the firefighters were human. Of course, the police officers were human. Of course, the paramedics were human. Of course, the nurses, doctors, volunteers, good Samaritans, and first responders of any type were human. Superhuman in many instances. It's not clear to me that Ta-Nehisi has retracted or rephrased this passage since the publishing of the book. I think it would be in his interest and in the interest of improving race relations in the U.S. for him to do so.
"One must be without error out here. Walk in single file. Work quietly. Pack an extra number 2 pencil. Make no mistakes." Pg. 95
In this passage "here" refers to the inside of a mostly white upper middle class neighborhood in New York. Ta-Nehisi is highlighting a frigid gap between typical black and white sub-cultures in modern America. A real life example of this point can be seen in the case of Jacqueline Craig and her two daughters. All 3 women were wrongfully arrested in Fort Worth, Texas on December 21, 2016 exactly because one of her daughters didn't "walk in single file". The chasm between black and white culture manifests itself when Ms. Craig's daughter makes a motion to move her mother away from the police officer because the intensity of the situation had begun to escalate. The teenage girl was clearly making a de-escalating gesture. A gesture recognizable as conciliatory to anyone who has spent any meaningful amount of time with black people. The officer, presumably unfamiliar with the girl's mannerism, interpreted her gesture as aggressive, which it was not, and subsequently put the girl, her mother, and her sister in handcuffs. The solution to this specific situation would have been more patience and understanding on the part of this police officer but that isn't true for every white/black clash. The deeper fix is for people of every color to make meaningful friendships with people from very different cultures. It's a long road but we're walking it together.
"And I knew that there were children born into these same caged neighborhoods on the Westside, these ghettos, each of which was as planned as any subdivision. They are an elegant act of racism, killing fields authored by federal policies, where we are, all again, plundered of our dignity, of our families, of our wealth, and of our lives." Pg. 110
This passage illuminates a disconnect between myself and Ta-Nehisi. Specifically, the verbs "authored" and "plundered" in the second sentence are part of a harmful narrative that is plaguing black American culture. The projects, referred to as caged neighborhoods here, were a planned subdivision in fact but they can't be called an act of racism in the traditional sense of the word. The word racism implies harm. Building low income housing for low income people should not be considered a harmful act in a democracy in which we actively call for the government to help the poor. The existence of killing fields within some of these neighborhoods is real but they are authored by intelligent energetic eager proud youth that have been misled by a culture that encourages them to be hard and earn respect through violence. A young man deciding of his own volition to live by the gun when his neighborhood recommends that he do so and killing others just like him because there's a life and death game being played on his streets is not an act of racism. We can say that the existence of this sad and fatal environment is ultimately a result of historic racism and the gross economic inequality that it ushered in but the perpetuation of said environment is not an act of racism. Tupac Shakur once said "They say it's the white man I should fear but it's my own kind doing all the killing here." You could say that our dignity in our worst neighborhoods has been plundered but it's us that have done the plundering most recently. It's very important to reiterate here that these terrible and desperate socioeconomic pitfalls are a direct result of historically racist policies but the responsibility for any violence that occurs within these neighborhoods has to be placed squarely on the shoulders of the violators. Philosophically, it has been the mechanism of individual choice that makes the distinction between which policies were racist and which were not. When choice of which school to attend is made for you or which water fountain to drink from is made for you, that's racism. When your choices are being taken away from you or made on your behalf and the motivation for such theft and oppression are racial in nature and the outcomes are objectively harmful to you, that's racism. It's the responsibility of every modern black American to admit that some of the most dangerous and ugly parts of our collective culture are being actively upheld by choices that we are making without explicit coercion or manipulation. There are, however, a host of implicit factors influencing the choices we are making and that's the conversation that we are having today. Implicit bias and stereotyping have primed non-blacks to be scared of us and us to be scared of ourselves even in totally innocuous situations, e.g. the murder of Philando Castile. Dark brown skin has been weaponized by centuries of anti-black propaganda. However, suggesting that the federal government should take responsibility for recent killings occurring in our neighborhoods isn't a useful mindset for the improvement of black American culture or the improvement of American culture in general. We can do better. We can be smart enough to not pick up the guns in the first place. We can start our own businesses and patron our own businesses. Yes, we have to do this for the umpteenth time because white Americans kept burning down our buildings and locking us out of prosperity but it's our time to do it. We can stand up. We can take control of our own fate in this land. We can. Yes, we can.
"I am wounded. I am marked by old codes, which shielded me in one world and chained me in the next." pg. 125
The point that Ta-Nehisi makes here is a great follow up to my earlier point. We have to ask the question, why is it that young men decide to live by the gun? Why is it that black Americans disproportionately lack appreciation for global culture and their part in it? Why is it that blacks can make up such a frighteningly large proportion of the prison population without serious political upheaval? Briefly, we can answer; they have to because their lives depend on it, there's a dearth of powerful positive black cultural iconography outside of entertainment, and blackness has been so deeply identified with criminality that we are collectively numb to the smothering of black culture from within and from without.
"The forgetting is habit, is yet another necessary component of the Dream. They have forgotten the scale of theft that enriched them in slavery; the terror that allowed them, for a century, to pilfer the vote; the segregationist policy that gave them their suburbs. They have forgotten, because to remember would tumble them out of the beautiful Dream and force them to live down here with us, down here in the world." pg. 143
It's abundantly clear to most people that the black American was intentionally dealt a terrible hand by the ruling white American at the birth of our nation. Even worse, half the time we weren't allowed to play cards at all and were forced to be the tables and chairs while white owners gambled with our lives. The power of the American economy was built on the backs of non-white people. It stands to reason that the descendants of those groups would receive economic benefits or disadvantages based upon the parents to whom they were born. Upon investigation of said groups, we see that some are better than others at regrouping after violent oppression.
The Jews had been the target of unwarranted hate for over a thousand years before the onset of the Third Reich. They had before that time developed very tight social ordinances that facilitated their renewed health and re-establishment of socioeconomic integrity in the aftermath of genocide. Japanese Americans were interned for less than ten years in America and they had a powerful work ethic inherited from the rich culture and history on their homeland. The blacks that were sold as slaves were from disparate cultures, disparate languages. We weren't one people in the bottom of slave ships. We were many different people, in fact. Therefore, there could have been no real expectation for us to quickly create effective social ordinances and traditions, like the Jews, in order to bond together when callous rulers in an alien land actively whipped us into submission for speaking out of turn and killing us for learning to read. Our only "homeland" was Africa, the second largest continent on the face of Earth and home to over 1500 languages. Black American slaves with several distinct origins were all thrown in together as one dark brown heap of bodies. The rich history that should have been accorded to each individual personality and each individual culture was broken, unrecorded, and disregarded, the black American had to begin anew. For 350 years, we were oppressed this way. An active oppression that only ended 157 years ago. Black Americans today are closer in relation to the last slaves than the last slaves were to the first slaves. Unfortunately, many modern white Americans would rather not acknowledge this relatively recent history. Ta-Nehisi writes so that our history cannot be subtly swept under the rug. We have been trying to establish a work ethic and a cultural foundation of our own for all 157 of those years and we were met by hate and destruction for the first 110. This will be the first generation of black American leaders to not be publicly assassinated. It will be a while before our reactions to oppression are as skilled and hearty as the Jews and the Japanese.
"Perhaps that was, is, the hope of the movement: to awaken the Dreamers, to rouse them to the facts of what their need to be white, to talk like they are white, to think that they are white, which is to think that they are beyond the design flaws of humanity, has done to the world.
But you cannot arrange life around them and the small chance of the Dreamers coming into consciousness. Our moment is too brief. Our bodies are too precious." pg. 146
I don't fully agree with the first part of this passage but I understand what he is saying as a conflation of two different points. The first being that the rhetoric of the Black Lives Matter movement, and most movements pursuing racial equality in America, is aimed at white Americans. I agree. Non-whites see whites as the group in power, one-look at American history will make that point abundantly clear, and they often speak to whites as a single powerful entity. White America, however, is not a monolith and Ta-Nehisi doesn't give that concept much face time. The second point, which I disagree with, is that the whites' need of whiteness is the catalyzing factor in their global iniquity. Attributing the destruction whites have caused to their racial identity is an inaccurate understanding of their culture. They have historically done a lot of damage not because they're white but because their leaders have held the Anglo-American way of life in such high standard that they have often cold heartedly, violently, and deceptively interfered in foreign politics to the detriment of millions of brown bodies around the globe. The leaders usually considered any harm done therein as collateral for spreading American power and influence.
Price Jones' death and the interview with his mother are significant sections of the book. I'm forgoing deeper review of those events for the sake of brevity is this specific article. I will of course refer to this tragedy later when I take on the larger issue of blue on black violence. There's ample video and writing that one can watch and read for a greater understanding of that event. Suffice it to say, it's a sad day indeed when an innocent man is killed because an inept cop got it way wrong. My deepest condolences go to Dr. Mable Jones and her family.
All in all, I enjoyed the book. I think the transmission of honor, dignity, and strength from black adult to black child is beautiful. Ta-Nehisi's personal experience likely has significant resonance with millions of black Americans, myself included. The book has its blemishes, certainly. The most egregious of which has been admonished here. But the spirit of the text, the necessity to be black and proud, has yet to be met with widespread compassion in the U.S. For that reason, amongst others, I'll recommend it to anyone who's interested in bridging our culture gap.